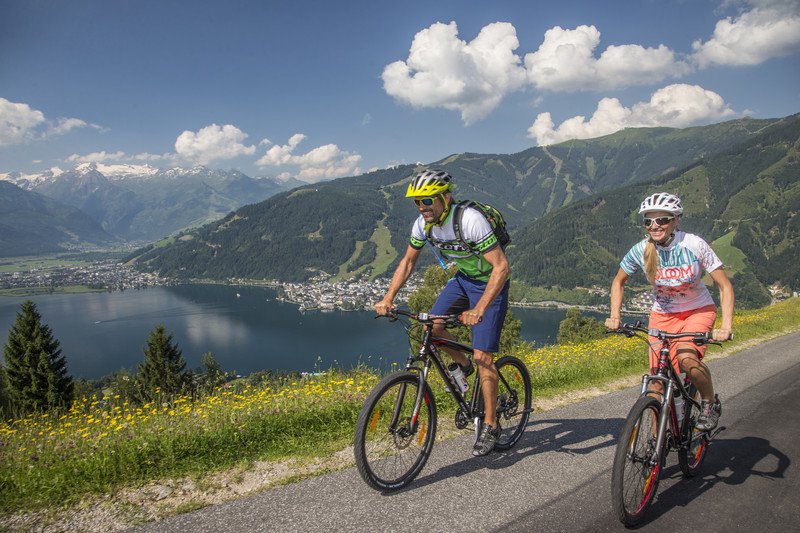 Cycling & Mountainbiking
The joy of exercising is the main object when cycling in Zell am See-Kaprun. Zell am See-Kaprun is well-known for its diverse cycling paths. The offering ranges from short, flat tours to challenging mountain ascents. You can explore the surroundings cross-country on a mountain or trekking bike.Whichever tour you choose you'll enjoy the stunning scenery of the region.
Mountainbiking in Zell am See-Kaprun
Enjoy fantastic rides at the Maiskogel, to the Hundstein and at the Kitzsteinhorn. There the extra long, high alpine downhill run from the Alpincenter to the valley is 12 km long with a difference of 1500 altitude meters. The Geißstein-, Wüstlau- and Bachler trails are pure action and biking fun too! Uphill riders can enjoy 1.952 altitude meters to the Alpincenter at 2.450 m. The single ascent & descent lift tickets are valid for mountain bikers. Mountainbikes are transported to the Alpincenter, at 2.450m, free of charge.
Long distance cycling paths and E-bikes
Are you looking for a special challenge? The stunning tour on the Tauern cycling path takes you on a 325km trip from Krimml to Passau. Enjoy a bike trip through the Alps!
E-bikes are available for rent at various stations in the Zell am See-Kaprun region. This enables you to explore the region without breaking too much of a sweat. A charged battery allows you to cover a distance of 60km. But that does not mean you are limited to that range. The battery can be recharged at the aforementioned rental stations. For kids the Schmitten is offering a special e-bike motocross parcours.
Road Cycling & IRONMAN
You want to experience the region on your road bike? You'll enjoy a beautiful scenery. We highly recommend the IRONMAN 70.3 World Championship race track wich is 90km long with an altitude difference of 950m. The Großglockner High Alpine Road isn't far away either - be prepared for an altitude difference of 2000m!